Full colour eye-catching LED free standing digital solutions
UTG Plug and Play Stand-Up Displays are all-in-one units that can be sectioned to hold different content simultaneously. Content upload is in real time or prescheduled. They deliver instant effective ad campaigns for optimal brand creativity and expression.
Retail Digital Signage
Internal Communications Digital Signage
Digital Signage for hotels and casinos
Digital Signage for museums
Digital Signage for Schools, colleges and universities
Digital Signage for Healthcare, hospitals, pharmacies and clinics
Automotive Digital Signage, in car dealership and sales centers
Digital Signage for Airports, bus stations and other transportation
Digital Building Directory, Lobby Digital Signage and Office Building Digital Signs
Digital Signage for Events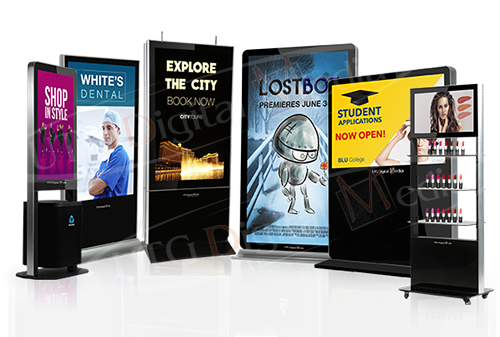 Customized Hardware
All-in-one system
Sleek compact design (no wires, media boxes, laptops, etc.)
Commercial graded displays (made of steel – not plastic)
Anti-glare technology with 180 degree viewing angle
Energy efficient
Interactive Web Board Software
Clients have 100% control of digital displays and content features
Enables single screen changes (or entire network changes) from anywhere in the world with an Internet connection
Capability to schedule content in any desired time interval (seconds, minutes, etc...)
Capability to customize and structure the design of the screen
Extremely user friendly, flexible, and hassle-free
Stability, Ease of Installation and Mobile Design
UTG's Stand-up Displays design gives ultimate mobility and ease of installation. Wheels with built-in brakesare easily screwed in to or removed from the base.  With wheels, displays can easily be setup anywhere and moved around if needed. The heavy-duty base provides complete structural stability to ensure your displays are not damaged.
Our Services
UTG provides 100% expert client care
24hr technical support
Unbeatable warranties
Quality Products
Client intellectual property protection
24hr emergency content management support
Professional Graphic Design available to create customized templates tailored to clients' needs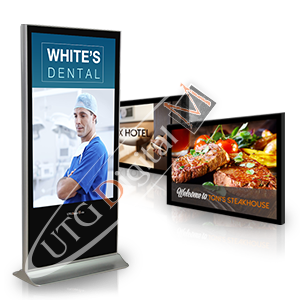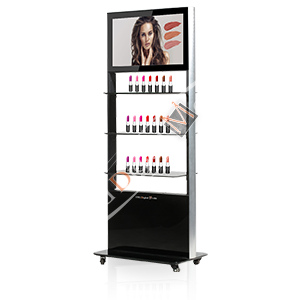 DIGITAL KIOSK WITH SHELVES
24"