Whether it's a dental clinic, office, school, or shopping center, outdoor digital signage brings a lot of business. You can expect immediate boosts in sales, better awareness, and higher engagement. And the best part is: it is much cheaper than any alternative media sources!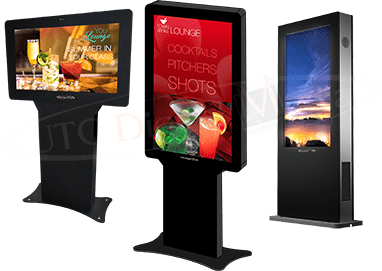 UTG's all-in-one advanced outdoor digital menu box, ultra bright and designed to withstand direct sunlight, allowing you to update your menu remotely from anywhere in the world in real time without any worries about print cost. Made of durable steel casing with tempered glass, this product is 100% weatherproof (withstands -40°C to +50°C temperatures), resistant to vandalism, theft or extreme temperatures.
Improve communication and passengers' satisfaction and safety in transport areas such as subway, train or bus station, with our advanced digital signage solutions specially designed for the transport industry to provide clear and easy-to-read information about arrivals, departures, baggage, schedules, promotions, safety messages and more.
Our digital solutions are of high quality and allow to effortlessly attract attention by showcasing vibrant live screen programming, with content uploaded from anywhere in the world and compatible with any format.