Whether it's a dental clinic, office, school, or shopping center, outdoor digital signage brings a lot to the business. You can expect immediate boosts in sales, better awareness, and higher engagement. And the best part: it is much cheaper than any alternative media sources!
UTG's all-in-one advanced outdoor digital menu box, ultra bright and designed to withstand direct sunlight, allowing you to update your menu remotely from anywhere in the world in real time without any worries about print cost.
Made of durable steel casing with tempered glass, this product is 100% weatherproof (withstands -40°C to +50°C temperatures), resistant to vandalism, theft or extreme temperatures.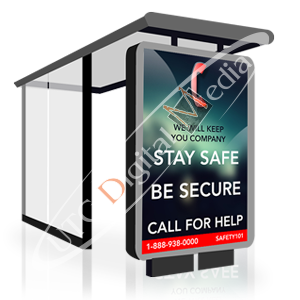 Improve communication and passengers' satisfaction and safety in transport areas such as subway, train or bus station, with our advanced digital signage solutions specially designed for the transport industry to provide clear and easy-to-read information about arrivals, departures, baggage, schedules, promotions, safety messages and more.
Our digital solutions are of high quality and allow to effortlessly attract attention by showcasing live screen programming, with content uploaded from anywhere in the world and compatible with any format.
weather resistant
UTG is no stranger to Canadian winters- that's why our outdoor LCD signage is 100% weatherproof from -40°C to +50°C. Our units are equipped with internal air filtration systems to protect against dust, salt, air and more, and auto-light sensors to ensure optimal brightness in any environment.
Commercial grade display
UTG screens are equipped with anti-glare technology, a 180* viewing angle, and steel- not plastic- screens. These energy efficient screens are built with quality and performance in mind.
ALL-IN-ONE SYSTEM
UTG's all-in-one system gives you total control to create eye-catching and interactive content, without the hassle of outside cords or media boxes. Using UTG's in-house content management system, our plug and play units are a quick, user-friendly way to take your advertising to the next level.
24/7 Support
Whether you're in need of an update or have any questions, our support team is there to help. With 24/7 assistance, technical help is never more than a message away.
WHY OUR OUTDOOR DIGITAL SIGNAGE?
WE OFFER OUR SERVICES ALL OVER THE WORLD!
CUSTOMERS ARE USING DIGITAL SIGNAGE FOR:
Retail
Transit
Internal Communications
Menu Boards
Car Dealerships
Education
Healthcare
Hospitality
Food Services
Digital Directory
This page is also available in: Français (French)