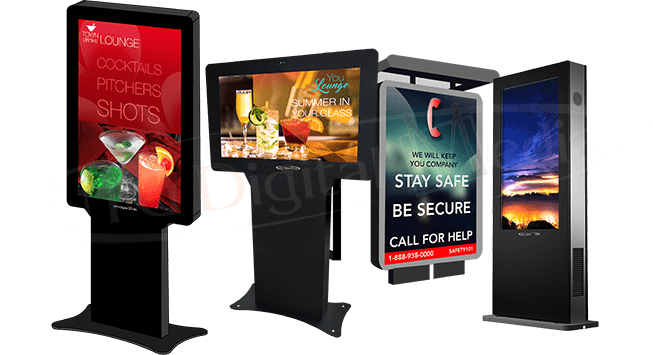 Whether it's a dental clinic, office, school, or shopping center, outdoor digital signage brings a lot to the business. You can expect immediate boosts in sales, better awareness, and higher engagement. And the best part: it is much cheaper than any alternative media sources!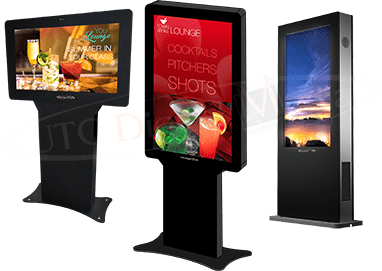 UTG's all-in-one advanced outdoor digital menu box allows you to update your menu remotely from anywhere in the world in real time. It also allows you to design the layout of the display (split the screen in as many areas as you wish), schedule menu items (breakfast, lunch, dinner), promote special items, events and up sell! The possibilities are limitless and no need to worry about print cost.
No matter the size, our superior quality digital solutions effortlessly attract attention by showcasing vibrant live screen programming compatible with any format. Perfectly suited to display brand advertisements, public transportation schedules, weather updates, local accommodations, or any other messaging in real-time.
Customized Hardware
All-in-one sleek compact design (no wires, cables, hook ups, media boxes, laptops, etc.)
Ultra bright panels designed to withstand direct sunlight
Auto-light sensors for optimal brightness in any environment
Air filtration system protects against dust, salt air and more
Expert heating and air conditioning system
Durable steel casing with tempered glass
Energy efficient (reduced power consumption)
24 hr technical support available
Interactive Web Board Software:
100% control of the screens and content featured
Enables single screen changes (or entire network changes!) from anywhere in the world with an Internet connection
Live feed programming (time, weather, bulletins, news, alerts, etc.) presented in real-time
Capability to schedule content in any desired interval (by the second, by the minute, every 5 minutes, etc.)
Freedom to unleash imagination & creativity through customization of the design of the screen, as well structure all content featured on the screen
Extremely user-friendly, flexible, and hassle-free

Client Care

24 Hour Support

Design

Highest Quality

Full Protection

Unbeatable Warranty
Interested in our signage?
View more of our works