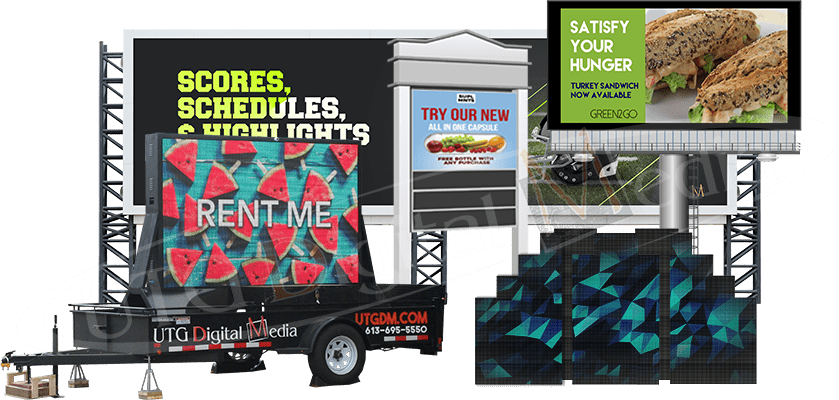 Our Outdoor LED signage products includes LED Pylons, Digital Billboards, LED Stages and a Mobile LED Trailer. UTG's Outdoor LED signs are an environmentally-friendly marketing approach to eliminate print and communicate messages more effectively while guaranteeing a return on investment through advertising. At UTG, we custom make our LED signs based on clients' budget and requirements. Ideal for any type of industry, UTG provides any size and resolution, from small signs to large billboards.
Repurpose your existing outdoor pylon structure with our dynamic LED Pylon and target high traffic areas with vibrant live screen programming, weekly sales, advertising, or local alerts using any format (text, image, or video).
UTG's  light weight and slim design LED signs provide a cost effective digital billboard advertising solution with a versatile and easy installation for any type of application or any environment. UTG's network-controlled digital billboards are made with the highest quality component and materials, providing a longer lifespan and brightness for years. They are built to withstand the harshest climates, high humidity, heat, snow, hail and rain.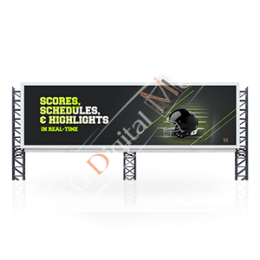 Stadium / Arena LED Screen
Outdoor and Indoor stadium and arena LED screens customized for sports venues to use as scoreboards, scorecards, perimeter screens with vivid real-time information delivered to large audiences including score updates, brand marketing, emergency alerts, event promotions, sponsor recognition, and more.
At UTG Digital Media we are experts in the field of digital signage with a great ability to design and install any type of customized LED. Users have 100% control of the content featured on the LED stage to allow for remote instant changes. With an expansive range of pixel pitch (the distance between LEDs), UTG offers the broadest selection of exceptional digital products for all sizes and distances.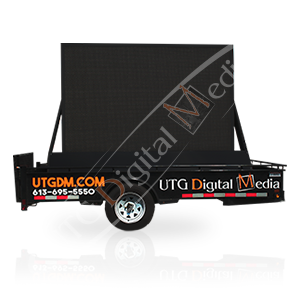 MOBILE LED ADVERTISING TRAILER
UTG's Mobile LED Trailer is versatile and portable, allowing you to change the location of your billboard as you see fit. UTG houses a variety of high quality LED Signs for either purchase or rent, guaranteed to draw in customers, create exposure, and boost revenues.
UTG's LED products are customized to meet customers' specific requirements and the Mobile LED Trailer is ideal in high visibility, high traffic areas.
Features:
UTG's LED displays are custom-made using a combination of modules.
High Resolution Full Color RGB LED
Wide range of pixel pitch options
Custom built sizing
High brightness and contrast
Plays video, images and text
Dual Maintenance Modules for easy access (Remove module from the front without opening cabinet for easy repair or replacement)
Built-in light sensor to auto control the sign brightness based on surrounding light (Day/Night).
Built-in temperature sensor to measures the outside temperature and humidity.
Operational temperature: -50 + 70
Resistant to harsh climatic conditions: humidity, extreme temperatures.
Wireless/Wired Synchronized/Asynchronized Control System
Content Management Software:
Advanced group scheduling
Split screen in multiple areas
Control multiple displays using one control system
Real-time editing with abilities to import graphic images and video files: .gif, .bmp, .png, .avi, .mpeg, .mp4, .flv
Editable message frames with multiple layers, transition effects and video filled text feature
Full control over volume, brightness and contrast
Time and temperature feature
"As owners of the M&M franchise in Rockland, we thank UTG Digital Media for their professional services during and after the purchase of our outdoor double-sided LED sign. We ended up with a bright and dazzling interactive LED sign. High quality LED signs like the ones UTG manufactures are very hard to find in our area! We will definitely recommend UTG's products and services to the businesses in our region as well as to our franchise network."
"In 2010 we chose UTG Digital Media to supply and install a double sided LED sign. Over the years, their professionalism, knowledge and quick service made the experience easy and pleasant. UTG provided us with excellent advice at all times, answering all our queries and concerns. Very happy with the results. Thanks for the easy decision!"
"We are very pleased to buy our LED signs from UTG for our schools. UTG team provided us with the best customer service we could ask for. They offered professional assistance with the installation making sure we were satisfied and answer our questions quickly and precisely. Our students can now enjoy top of the line signs to get informed about their school's activities and special events. From all the Assets Department here at CECCE, we thank you all for your great work."
More views than static displays
UTG's Blog
Summer is fast approaching and with it comes a lot
Read More »