Digital Signage for transit
We offer a variety of Digital Signage for busses, bus stations, and taxis.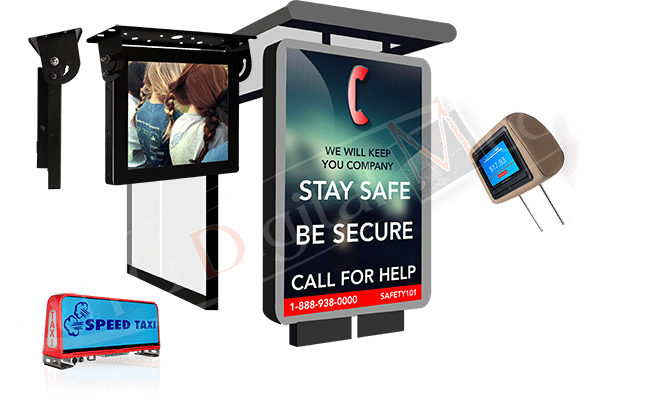 Customized Hardware
Ultra thin and narrow bezel of 1.7mm, real seamless with matte finish
LCD screen brightness up to 700cd/m2
Ultra-high resolution of 1920 × 1080 ~ 4K
High reliability and stability
24/7 of continuous operation
Highly reliable industrial power supply design, heat flow guide design to ensure stable operation
HDMI input with multi-display splitter
Content Management Software
(Optional using UTG's Media Box)
100% control of the screens and content featured
Enables single screen changes (or entire network changes) from
anywhere in the world with an Internet connection
Live feed programming (time, weather, bulletins, news, alerts, etc.)
presented in real-time
Capability to schedule content in any desired interval (by the
second, by the minute, every 5 minutes, etc.)
Freedom to unleash imagination & creativity through
customization of the design of the screen, as well structure all
content featured on the screen
Extremely user-friendly, flexible, and hassle-free
No matter the size, our superior quality digital solutions effortlessly attract attention by showcasing vibrant live screen programming compatible with any format. Perfectly suited to display brand advertisements, public transportation schedules, weather updates, local accommodations, or any other messaging in real-time.
Appeal to receptive audiences UTG's LED transit displays. Innovative digital technology that enables engagement, entertainment, as well as enhancement of the commuters' experience by means of live news/weather/traffic updates, luscious advertisements, arrival/departure schedules, and much more.
UTG's taxi roof tops fit all vehicle types, they are waterproof, and let you control the content on the screen remotely.
The innovative digital transportation solution engages, entertains, and maximizes effective messaging to otherwise idle passengers within a short timeframe. Provide passengers with live local news, weather bulletins, traffic updates, and/or local advertising. Our exceptional software encourages user-friendly opportunities to advertise, communicate, and interact with your audience in an unprecedented fashion.
Features:
Roof/back mount
Energy efficient
180 degree viewing angle
Steel frame (not plastic)
No additional equipment required
Simple installation
Online-based content management
Ethernet, Wi-Fi, 3G, or LTE
DC powered
| Specifications | Value |
| --- | --- |
| Backlit | LED |
| Aspect Ratio | 16:9 |
| Resolution | 1920×1080 |
| Colour | 16.7 M |
| Brightness | >350cd |
| Response Time | 5 ms |
| Operating Voltage | DC 9V – 30V |
| Speaker Power | (10 W x 2) |
| Operating Temperature | 0°C ~ +40°C |
| Operating Humidity | 10°C ~ 90°C |
| Storage Temperature | -20°C ~ 60°C |
| Material | Metal |
Digital Signage in Numbers
Effectiveness on brand awareness
More views than static displays
Customer satisfaction increase