Connecting with the community is very important to any organization.  The majority of successful relationships start with effective communication, and most of the communication done withing the community will start with signage.
You might have already sent paper advertisements via regular mail, used portable billboards, rigorously put up letters on advertisement stands to connect with the community, and that must have cost a lot of money and time.
Gone are the days to worry about printing posters at a high cost, or physically changing letters on a (not so attractive) mobile sign. Seriously, going digital is a simple, effective, and cost-saving solution that helps organizations spread messages to their members with the click of a button!
At UTG, we customize LED signs to clients' needs and budget!
Because we customize our signs to clients' needs, budget and requirements, you can choose your displays in every possible pixel resolution available. Software training and technical support are always available.
Transform your religious organization into a "messenger on the street"
LED signs are becoming the best way to communicate messages and to share the Word of God from a distance. UTG's LED screens serve as a vital communication tool for the entire community, allowing messages to be updated in real time allows for an impactful difference!
Display special services, prayer times, and holy days;
Highlight special activities and fundraising events;
Share updates, community events and information in real time;
Pre-schedule and program upcoming events or holidays.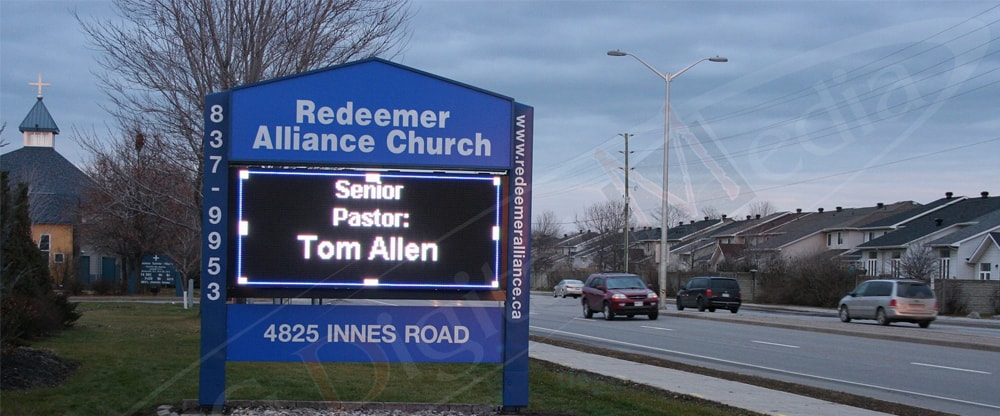 Lower your overall costs and power consumption!
LED technology runs longer, more efficiently and requires less maintenance than any other signage. At UTG, we use the most advanced LED technology. Your message will be visible to everyone even on the Brightest, Coldest or Hottest Day!
Learn more about our LED Signs
This page is also available in: English (Anglais)