Secure Charging Station Kiosk for Mobile Phone
MPoweredbyUTG is a revolutionary mobile charging station that provides mobile users with a convenient and secure way to charge up their mobile device without the need to stick around! Unlike what's in the market today MPoweredbyUTG does not require customers to enter personal information or their credit card to use.
Built with an advanced technology, customers can lock and unlock the cabinet where their phones are charging simply by using their fingerprint and make the most of their time elsewhere.




Charger to all mobile devices





Steel frame (not plastic)




Compatible text, image, flash, video, and more




Online-based content management to update content remotely from anywhere in the world or choice to update content locally with a USB


Ethernet, Wi-Fi, 3G, or LTE





No additional equipment required




22″ LED Screen
A built-in 22″ LED screen allows the host to display messages, advertisements and promotions of their choice, in any format, updated remotely from anywhere, in real time.

  Display future events;
  Inform, impress, impact;
  Return on investment through advertising and promotion.
Improve exposure and attract customers;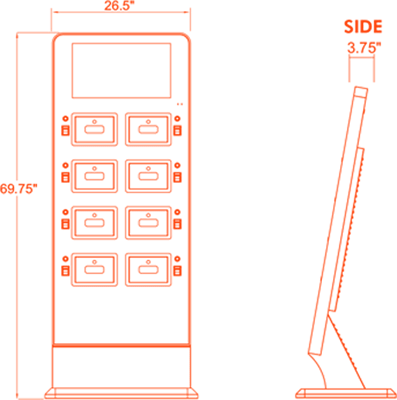 Interested in our signage?
View more of our works

Client Care

24 Hour Support

Graphic Design

Highest Quality

Full Protection

Unbeatable Warranty
Like what you see? Contact us!