Transport Vehicle (busses, trains, taxis) Digital Signage System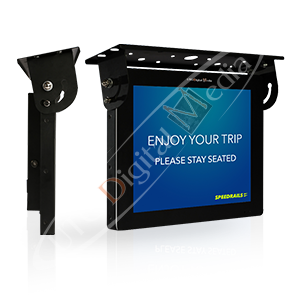 UTG's Onboard Transport Vehicle digital displays are an innovative engaging advanced digital signage solution to display information, images, videos, and advertising to passengers.  UTG's digital screens are available in various sizes to fit in any area of installation.
The digital displays come with an advanced all-in-one system, and they do not require any extra equipment or USB keys, portable drive units or laptops to update content.  UTG's content management system allows remote update of information, to communicate with on board passengers with safety messages, transit news, updates, videos, and advertisements.  Updates to the displays are made over Wi-Fi connection.
To ensure the security of the driver and the passengers, UTG's digital system can power on and off without any interaction from the driver of the vehicle or passengers. UTG's digital system can be programmed to power on with ignition and to power off when the key is removed or pre-programmed per schedule, with the ability to program the frequency of each slide or video message.
Various digital signage solutions for the transport industry
Roof Top Mounted LED Displays
Hardware & Software features