Drive-Thru
Digital Menu Boards
A Full Service Outdoor Digital Menu Board Solution!
Stop wasting money and resources reprinting and changing Drive Thru Menu Boards.
UTG Digital Media offers outdoor, user friendly cloud-based digital signage solutions for Drive Thru locations to better leverage drive thru lanes.
o Affordable.
o Plug-and-play.
o Easily scalable.
UTG's software enables you to create vibrant menu boards, update multiple menu items simultaneously, schedule content and seasonal promotions on your screens effortlessly from anywhere in the world!
o Manage your digital menus from anywhere in the world
o Update menu items, prices, images, videos, nutritional information and more in an instant
o Pre-schedule your entire menu to automatically update during breakfast, lunch and dinner hours with UTG's advanced menu scheduling
No additional printing costs, no additional resources.
All of our outdoor digital signage solutions include commercial-grade screens with superior lifespans. They are built with heavy-duty components designed to be weather proof and handle rigorous, long term use.
UTG's Ultra-high 3000 nits brightness LCD displays are available in various sizes
An optional Built-in Drive-Thru Headset System with Long Range Ultra Capacity Wireless Headset and the smart speaker is also available. 
-50° up to 70°C / -58° up to 158°
Ultra-bright picture quality with 4K (3840 x 2160 px) UHD
Ultra-high 3000 nits brightness LCD display is ideal for maximizing legibility in even the brightest environment.
Equipped with automatic light sensors. Brightness adjusts during night time which is helpful to those with light sensitivity. Similarly, the brightness sensors automatically adjust brightness during the sunlight to make the screen fully readable.
Matte, Tempered, Antiglare Glass that protects from impact and eliminates glare from direct light.
IP65 Rating (Sealed against dirt, dust, oils, and other non-corrosive material).
Installation:
UTG works with professional installers anywhere in North America to ensure trouble free implementation of our digital signage solutions.
UTG's All-In-One Drive Thru Menu Board solution cuts costs, saves time and returns on investment!
– Upgrading from static menu boards boosts sales by 3 to 8% and improves speed of service at your drive thru.
– Our intuitive web-based digital signage software allows you update your content quickly and easily.
Free Coronavirus Digital Signage Templates will be provided.
Nothing is more important than keeping people safe and that is why we created health and safety messages and templates for free, to display on your screens.
We ship to any country. 
weather resistant
UTG is no stranger to Canadian winters- that's why our outdoor LCD signage is 100% weatherproof from -50° up to 70°C / -58° up to 158°. Our units are equipped with internal air filtration systems to protect against dust, salt, air and more, and auto-light sensors to ensure optimal brightness in any environment.
ALL-IN-ONE SYSTEM
UTG's all-in-one system gives you total control to create eye-catching and interactive content, without the hassle of outside cords or media boxes. Using UTG's in-house content management system, our plug and play units are a quick, user-friendly way to take your advertising to the next level.
Commercial grade display
UTG screens are equipped with anti-glare technology, a 180* viewing angle, and steel- not plastic- screens. These energy efficient screens are built with quality and performance in mind.
battery operated
At UTG Digital Media, we bring to you the newest and the best option for Outdoor Digital Displays!Use as Outdoor Digital Menu Board, Outdoor Digital Directory or Outdoor Advertising Display, our unique software gives the ability to upload content from the comfort of your office, or from anywhere in the world!!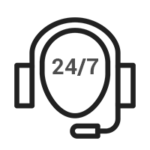 24/7 Support
Whether you're in need of an update or have any questions, our support team is there to help. With 24/7 assistance, technical help is never more than a message away.