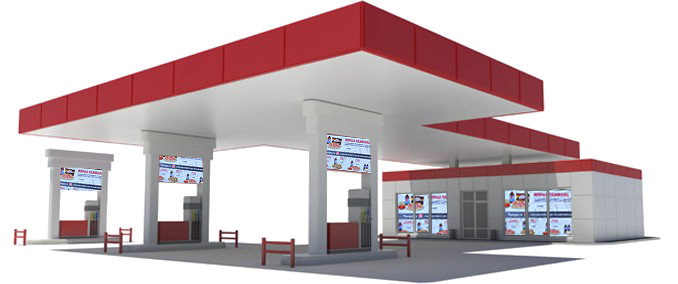 Digital Signage Solutions for Gas Stations
Digital displays, for pumps or in-store, offer an effective advertising digital solution to gas stations to drive promotions and sales.

With UTG's all-in-one system, you can remotely manage and control your screens content, make real-time updates or pre-schedule ads and campaigns or even media to play on specific times and days and dates.
Refuel while watching a commercial video on a screen above the fuel pump.
It's awesome for the customers!
Rewards and loyalty program
Carwash packages
In-store specials and food items
Set-up local advertising network 
Sell commercial space
Increase Gas Station Food & Beverage Sales
List store hours and general information
Add local new feeds and weather forecasts
Feature videos and trivia
Real time content edits and updates
Remote content management
Pre-schedule content
Create and manage new playlists
Advanced scheduling capabilities
Create and update playlists
Manage a single display or hundreds
Admin controls with multi-user control
Cloud media library for storing your media
Complete training and support
You can use digital signage inside the store as digital menu boards to list specials, update prices or sell advertising slides as a return on investment.
UTG's digital signage software offers many benefits. From any computer, anywhere in the world and at any time, users can create, edit and manage their screens content. The software takes any type of content from dynamic media slideshows, videos, news feeds, scrolling tickers and weather forecasts.
WE OFFER OUR SERVICES ALL OVER THE WORLD!
CUSTOMERS ARE USING DIGITAL SIGNAGE FOR:
Retail
Transit
Internal Communications
Menu Boards
Car Dealerships
Education
Healthcare
Hospitality
Food Services
Digital Directory