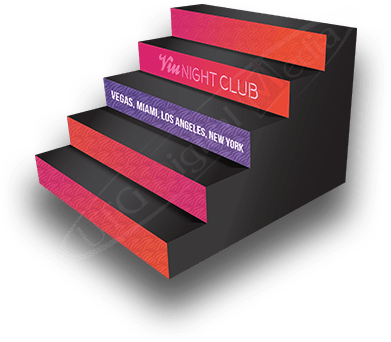 UTG Digital Media's innovative LED display stairs are revolutionizing today's digital signage industry around the world. Their unique abilities provide real-time programming and deliver mind-blowing visual content simultaneously.
With UTG's  LED Stairs, businesses can benefit from unlimited high-resolution messages that will dazzle and entertain any type of audience, ultimately leading to more awareness and more sales. 
This unique technology to UTG has won an International Digital Signage award in the Technical Innovation: Viewing Innovation category.
UTG's LED stairs are custom made based on clients' budget and architectural requirements.
Uniqlo Eaton Center - Toronto
The retail industry has taken a digital step further towards innovation with UTG's LED staircase installed  in one of Toronto's largest malls, as part of Uniqlo's renovations at the Eaton Centre. The stairs have 4 mm pixel pitch, allowing them to display high-resolution images, videos, and text.   The Uniqlo project also included a 194-foot-long LED ticker wrapping around the area's expansion space.
Jewel Night Club - Las Vegas
This ground-breaking LED staircase was the first of its kind to be installed in the Jewel Nightclub in Las Vegas.  It was unveiled at the grand opening of the JEWEL Nightclub and remains on permanent display. UTG was the only company in the world with the ability to deliver on such an innovative unique project.
UTG's LED Stairs are custom made based on client's budget and establishments' requirements.  
UTG's offers a unique capability and expertise to deliver on custom made LED Stairs for any type of industry, retail, nightclub, hotels, casinos and more…
The LED modules can run 24/7 with no burn-in. If you ever need us, we will be there to help. We are known for being very fast to respond to our customers needs. 
In 2010 we chose UTG Digital Media to supply and install a double sided
LED sign
. Over the years, their professionalism, knowledge and quick service made the experience easy and pleasant. UTG provided us with excellent advice at all times, answering all our queries and concerns. Very happy with the results. Thanks for the easy decision!
UTG made us shine, literally! Everything digital was beautifully laid out and contributed to the Red Carpet Vibe!