Graduation Ceremony with


UTG's Double sided


LED Trailer
Social Distancing Graduation With an LED Digital Screen
Available Rain or Shine!!!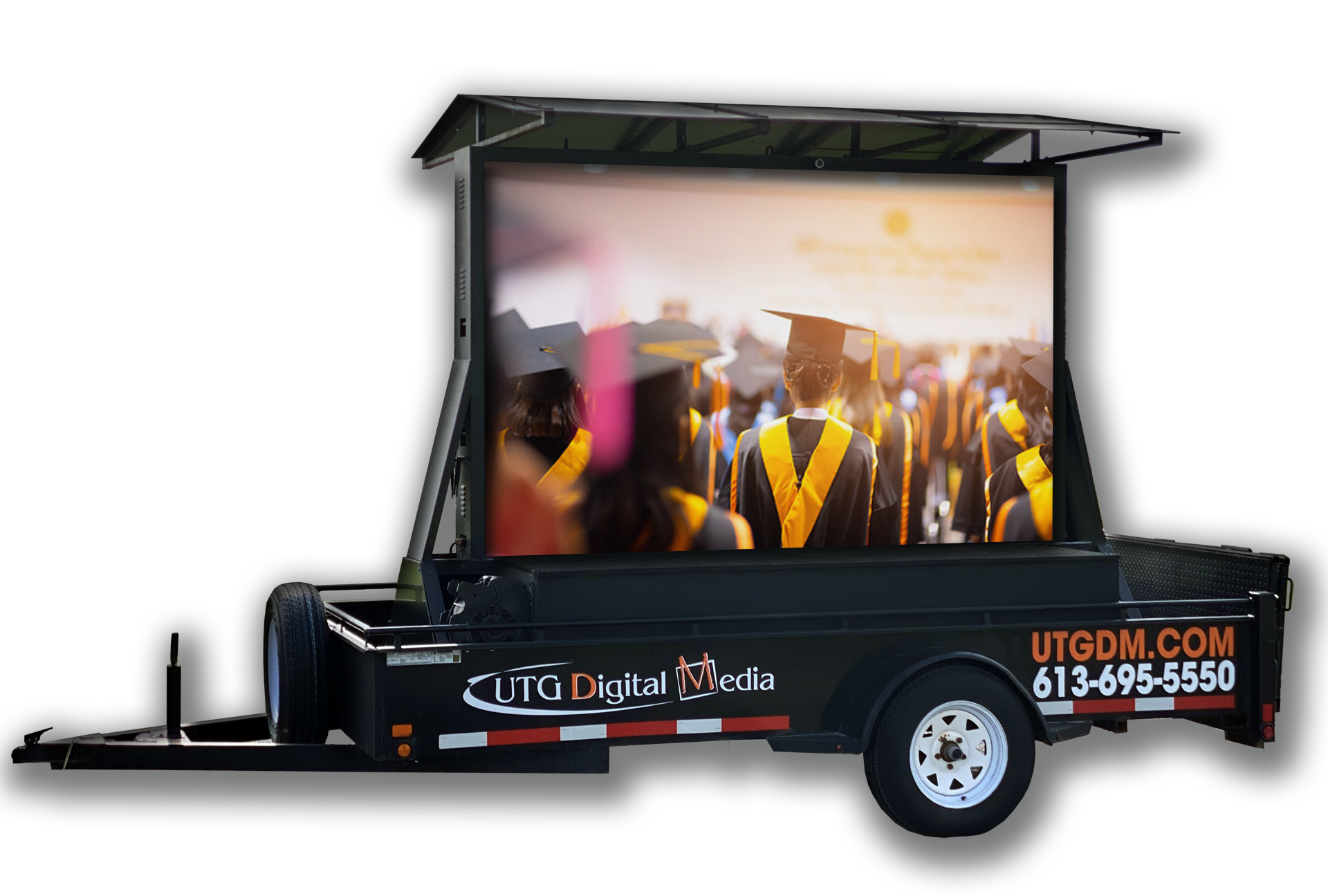 UTG'S DOUBLE SIDED MOBILE LED TRAILER SUPPORTS UNLIMITED CUSTOM MESSAGES, PHOTOS, VIDEOS FOR ANY OCCASION.
In Safe, Secure, Affordable and Versatile ways!
Graduation Packages Ideas
• Drive-by Students' Homes where UTG Trailer goes to students' residences and makes a few minutes stop

• Parade where parents, family members, school staff, would drive behind the Trailer in a parade style in the school neighborhood or location of choice

• Drive-Thru like a Drive in Movie Styled Ceremony where students, family members and school staff can stay in their vehicles and attend a grad presentation

• Drive-in where the LED Trailer can be parked at the location of choice (i.e.) school parking lot and students, family members and school staff can drive-by

or combine all the above options...
Content ideas
Unlimited Graduation Theme Custom Design Photos and Messages

Virtual yearbooks with photos highlighting various events

Students Graduation Photos and Bio slides

Play your own music playlist using on-board iPad or Control your own music through Bluetooth Speakers.
Custom Packages available
Outside of Ottawa/Gatineau
Please call for a quote. Client to provide power for the two hour+ stops.
Two hour+ Packages
Client to provide power for the two hour+ stops.
Thank you UTG Digital Media for helping Buckingham Elementary School Celebrate our Grade 6 Graduation. Fantastic service! Buckingham Elementary School
Thank you UTG team for the nice slideshow for my kids' graduation grade 12! UTG you are the best!
An amazing company, they helped me surprise my son for his 15th birthday with an amazing slide show! Thank you so much.
Thank you so much to Alan and his team for making my brother's surprise graduation ceremony so much memorable!! Our guests and I were so happy, and it honestly turned out wonderful, I cannot recommend this enough. Pictures and videos really do not do it justice!! An experience worthwhile. Very friendly and pleasant staff to deal with and they do whatever they can to help and go the extra mile! Thanks again guys:)
Excellent and well organized. I was very impressed when they came for the graduation ceremony for the kids in Blackburn hamlet.