UTG did it again. On Friday, May 10th, we unveiled an exciting new project at CF Toronto Eaton Centre: we installed LED Stairs and LED Ticker for grand retail expansion. This project is unique in Canada in innovation and design, and we're immensely proud to be the first ones to achieve it in the retail industry. The only project that comes close to it, is our award-winning LED stairs in the Jewel nightclub in Las Vegas.
You may have seen the end result of our most recent installation, so let's dive into the story behind this project.
The project spanned from ideation to installation when Axxys Construction, (the company in charge of the grand retail expansion at the Eaton Centre), reached out to us to design and deliver a 27 feet long LED staircase and a 194 feet long LED Ticker.
What followed was a site visit of a large empty area ready for a big revamp!
Everything about this project was custom made which gave us the opportunity to provide our input and expertise on how to best install the displays while ensuring safety and proper connectivity. By modifying the base structure of the stairs to fit our custom-made cabinets, we fabricated and built the cabinets according to the size of the area to ensure a smooth installation by our team.
Nothing is ever too easy or without challenges! The traditional way to work with LED stairs is to access them from the back. These cabinets had no back access, as we had to design them to fit the area… To solve this challenge, we designed the cabinets in a special way so we could run the data and electrical cables and interconnect them across all the cabinets, from the inside. As always, we put our all into this to make sure this project honors our values: product innovation, super quality, readability, and customer satisfaction.
Now some details about the stairs… They have a 4 mm pixel pitch, which is the distance between pixels, allowing them to display high-resolution images, videos, and text. It's easy to configure and update the displays through a software system. As for the cabinets, they were designed to absorb and withstand shock and daily foot traffic.
The LED ticker was mounted to cover the inside and outside corners of the retail expansion space. It has a 6 mm pixel pitch and can run multicoloured text throughout the whole section, from an easy to use software.
With UTG's LED Stairs and LED Ticker, retail can benefit from unlimited high-resolution message updates that will dazzle and entertain the audience, ultimately leading to more awareness and more sales.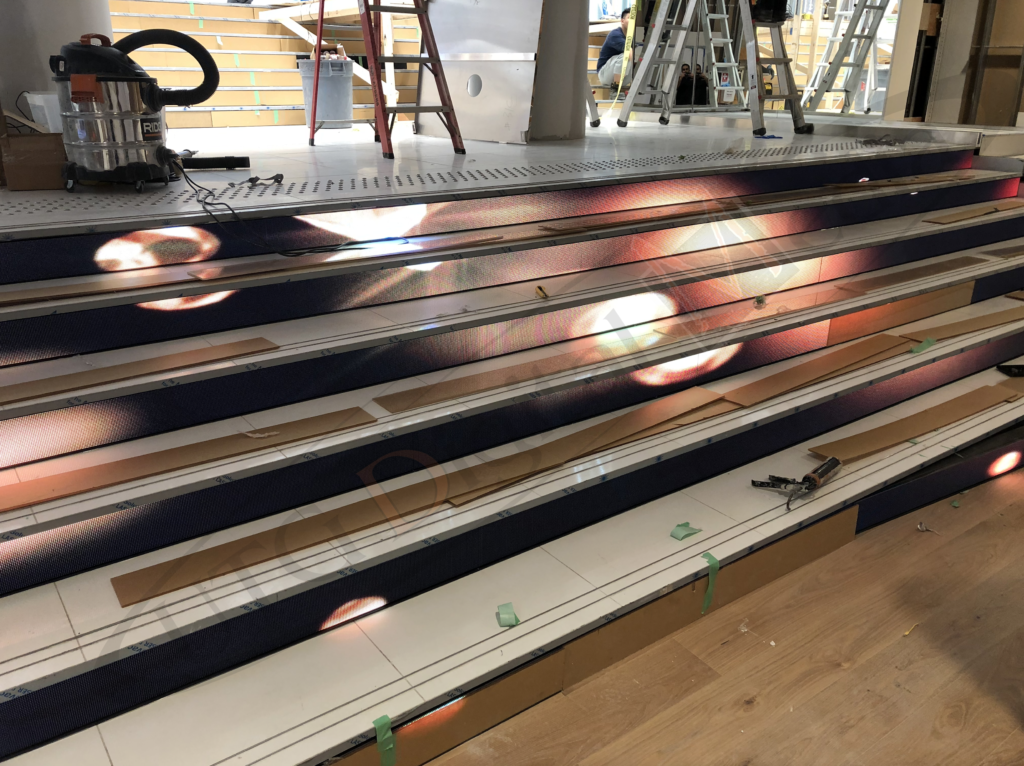 The project turned out to be a roaring success, and we, an Ottawa based company, take great pride in our expertise, knowledge and unique accomplishments! We are always pushing towards innovation and showing off our City's innovative capabilities through our achievements, worldwide!