Summer is fast approaching and with it comes a lot of hungry people from around the world. Having a restaurant on one of the busiest strips can be a hassle if you don't keep it busy at all times. People walk, visit and pass by, but if getting them in your restaurant seems like a hard task then a digital outdoor menu box might be the best solution for you. 
Here's why a digital outdoor menu box can help you pull in more customers:
Printing is outdated. People appreciate great graphics and amazing pictures of your food. Also, if they can interact with the menu that's even better.
Testing is easy now; you can literally test new graphics or pictures whenever you want. With a few clicks, you have a completely new menu displayed. 
Stand out. While other restaurants are still using printed or handwritten menus, you will be up to date with a digital menu board that you can be proud of.
The solution you have been looking for is UTG's Outdoor Digital Menu Box, specifically designed for the restaurant industry and suitable for any outdoor venue. 
7 Reasons Why an Outdoor Digital Menu Box Will Boost Your Restaurant
Salt, heat, light or weather has no effect on our Digital Menu Boards. Yes, you read that right. An air filtration system inside the unit protects the box and keeps your display intact. 
Content is easily uploaded onto the screens remotely; from anywhere in the world, pre-scheduled or in real time. Our system is entirely plug-and-play and hassle-free. 
You can change displays are many times as you want until you find the optimal setup. As a result, you end up saving overall and stop 3x more people and keep them 5x longer!  
Customers say an easy to read the menu is their top priority. Our panel is equipped with an auto-light sensor to display your content at optimal brightness under any light. 
Made of durable steel casing with tempered glass, our box is also 100% weatherproof and can withstand temperatures of -40°C to +50°C. 
A refined electrical system regulates and conserves energy. If you prefer, your box can also be battery operated! 
It can be wall-mounted or free standing with wheels for easy mobility.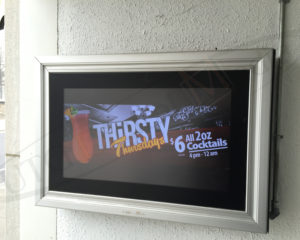 Digital signage has an amazing effectiveness for brand awareness. Wait no longer and consider investing in an outdoor digital menu box. It saves you money, it brings in more customers and it ensures that your messages stand out any day, any time. It's time to make the switch. 
UTG Digital Media specializes in dynamic indoor and outdoor digital signage and displays. As a leading brand in Canada, UTG proudly designs, develops, and distributes 100% of its quality products worldwide. Based in Ottawa, ON, UTG Digital Media has been delivering comprehensive, effective, and exclusive interactive digital solutions to businesses worldwide since 2004.
Interested to know more about our digital menu box? Give us a call or contact us and we will get in touch with you as soon as possible.
(We service all over the world)