École secondaire catholique Paul-Desmarais and Collège catholique Mer Bleue have recently installed UTG Digital Media LED signs to better engage and improve communication with their students.
Ottawa, Ontario, Canada (October 10, 2017) – UTG Digital Media has recently installed two double sided Outdoor LED Signs on the premises of École secondaire catholique Paul-Desmarais in Kanata and Collège catholique Mer Bleue in Orleans. These signs will provide the Conseil des écoles catholiques du Centre-Est (CECCE) the flexibility and ability to access and program the content of their signs from their office at anytime.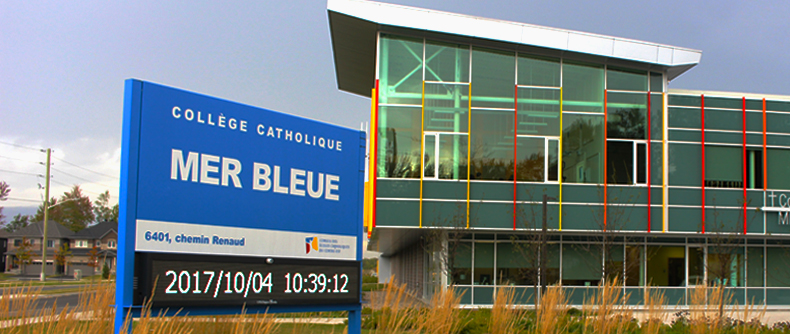 UTG's LED signs allow users to update the information on the signs from the comfort of their office, hassle free, allowing them to display schedules, promote specific products/services, display upcoming events and many more, in real time.
"Our students can now get informed in time about their school's activities and special events, hassle free on our end" says Olivier Mayette, building technologist at Conseil des écoles catholiques du Centre-Est (CECCE ). "We are very pleased to work with UTG Digital Media. They have provided us with quality products and the best customer service we could ask for, promptly answering our questions and providing professional assistance with the installation. Alan and his team are definitely experts in the field of digital signage proving to always be eager to find the most efficient and cost effective solutions for our needs. From all the Assets Department here at the Conseil des écoles catholiques du Centre-Est (CECCE), we thank UTG Digital Media for their great work."
More and more educational institutions are looking at Digital technologies to better engage, cut on print and inform with instant communication. UTG's LED signs are easy to install, easy to manage and provide many solutions for educational institutions wanting to offer 21st century technology to their students.

"We are happy to provide these schools with an advanced innovative communication tool to share up to date information with hundreds of students and visitors by the click of a button" says Alan Wehbe, Founder and CEO, UTG Digital Media. "Working with CECCE is a great pleasure for us and we look forward to working with their team on different projects in the future."
A variety of UTG's indoor and outdoor digital products are perfect for educational institutions of all sizes. Whether it is a University/College campus or an elementary school, UTG can help improve communication and visitors' experience. To learn more, please call our office at 1-613-695-5550 and visit our website at www.utgdm.com.
About UTG Digital Media
UTG Digital Media (UTG), an International Digital Award winner, develops and provides indoor and outdoor digital signage solutions (LED/LCD) and touch screens proved to deliver engaging result-driven experiences. UTG is committed to providing flexible services, high quality customized products, and successful business relationships while providing the most advanced digital business solutions. Based in Ottawa, ON, Canada, UTG Digital Media has been delivering cutting-edge digital technology since 2004.
UTG Digital Media Contact:
Tel: 613.695.5550