I always make sure my phone is 100 percent charged before I step foot out the door because I know how fast my battery will die. Whether I am in a retail or grocery store comparing prices; sitting in a bus or train station; waiting at a health clinic for hours; or even at a networking event, I am constantly using my device for multiple purposes. These devices are always in our hands or within the premises of our personal bubble; are you surprised our power runs out so fast?
Weak batteries, visit time and purchase behaviour
Weak Smartphone batteries are unavoidable because of constantly running apps, taking photos, making calls, using data and/or WIFI, etc. Having low battery power could cause customers to become distracted and push them out the door, shortening their visit at your organization, and preventing them from making a purchase.
How can your business create an advantage for current and potential customers that can increase both their visit time and their purchase behaviour?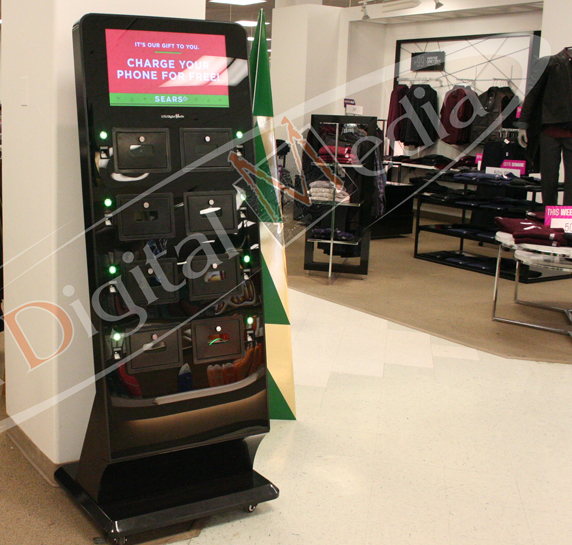 UTG Digital Media has the solution and has your business covered! MPoweredbyUTG Charging Station is designed to charge a customer's Smartphone, worry free and securely, while they are shopping, hanging out in an airport, spending time in the school cafeteria or in class, and even during long waits at a clinic. MPoweredbyUTG can provide your customers with a convenient and secure way to charge their phone without them having to stick around! How cool is that? Even better, your customers can experience this advanced technology to secure their phone in the cabinet by using their own fingerprint where they can lock and unlock whenever they please! No personal questions asked and no credit cards needed.
Thinking of shopping worry free of cell phone battery dying? Shop at SEARS in Ottawa or Toronto where you can find UTG's MPoweredbyUTG Charging Station in their stores! Stay tuned for our news release next week to learn about a new organization that recently installed MPoweredbyUTG Charging Station to make their visitors' experience more enjoyable!
Having a low battery on a Smartphone is a pet peeve for almost anyone. If your business can make a small fix that can increase traffic and sales, it is basically a win-win for both you and your customers. What are you waiting for!?
I appreciate your feedback!
Talk to you next week & have a great weekend – It is the first day of fall but it is still summer here in Ottawa! – Yay
– P