I was walking around Lyon, France last week. The weather was beautiful and the restaurants were tempting, but I couldn't help notice that none of these restaurants were using outdoor digital screens.
Walking along the streets of France you are charmed by the all of the restaurants, big or small. Even though the food and smells were captivating, their outdoor menu signs were uninviting, hard to read, and plain. I thought to myself, these restaurants could be attracting the eye of more clients by going digital. So why do they still use paper for their menus? It is not durable. Why do they continue to light their menu boards with small light bulbs, when it is unsafe to have exposed electrical cords on the ground? Why are they using chalkboards when their menu can easily be erased?
This is the moment I realized the extreme need for outdoor digital screens in restaurants!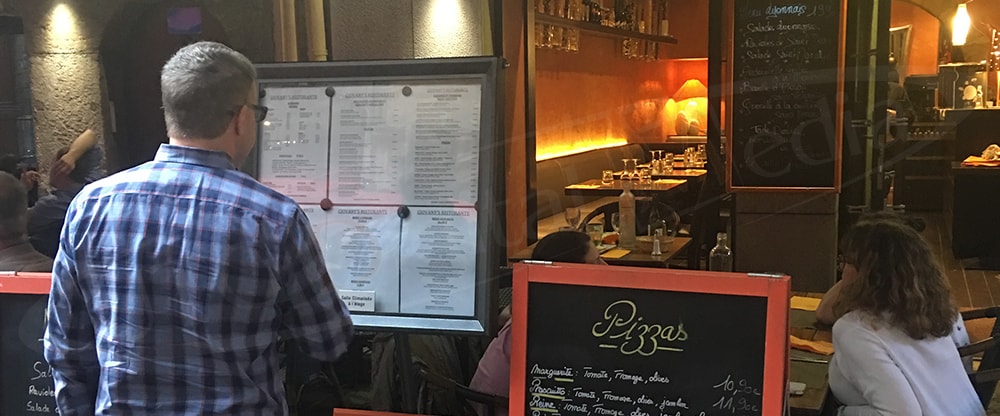 This is a Game-changer for Restaurants
Specifically designed with the restaurant industry in mind, UTG's Outdoor Digital Menu Box is suitable for any outdoor venue.
Unlike printed and static restaurant menus or handwritten menus on chalkboards, UTG's Outdoor Digital Screens cannot be ripped off nor the text mistakenly erased! Content is easily uploaded onto the screens remotely; from anywhere in the world, pre-scheduled or in real time.
UTG offers visually attractive and tempting content using our unique online content management system. All that is required to make the Outdoor Digital Menu Box in any restaurant work is a power plug and an internet connection, no extra equipment!
Screen Features
The screen's ultra-bright panel is designed to withstand direct sunlight, and it is equipped with an auto-light sensor for optimal brightness under any light. An air filtration system inside the unit protects against dust, salt, air, and more. Our system also includes an extremely efficient heating and cooling system. Our 100% weatherproof Menu Box can withstand temperatures of -40°C to +50°C. The screen is made of durable steel casing with tempered glass and a refined electrical system to regulate and conserve energy. It can be installed permanently or on wheels for easy mobility.
At UTG Digital Media we offer end-to-end digital signage solutions allowing you to communicate with your audience in an extremely engaging, interactive and hassle-free way.
Even though UTG is a Canadian based company, we serve countries all over the globe. Currently, we have ongoing projects in the various major cities of France and the US such as Paris, Lyon, Las Vegas, and New York. We are also working on projects in Middle Eastern and African countries such as Lebanon, Egypt, South Africa, and Algeria.
You can learn more about our Outdoor Digital Box, and the benefits it offers to restaurants here, as well as how to reach us to get a quote!