Planning an upcoming event?
How about super-engaging your visitors with high impact, portable and versatile Stand-up Displays (single or double sided), or super-charging your guests with Secure Mobile Phones Charging Stations? Or even wow your audience with large LED screens and LED trailer to make your event, location, information and even your sponsors just shine?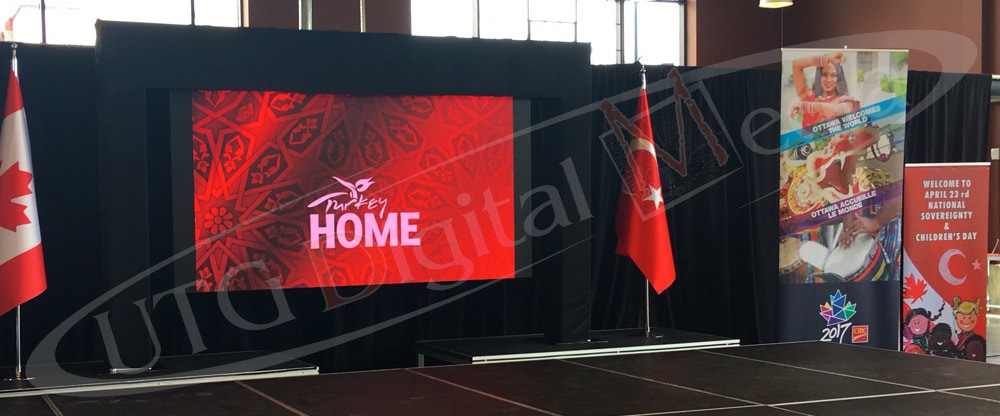 Just as a quick note, UTG's LED screens are not to be compared to projectors… They are much brighter, image crisper and the impact is huge! Check out one of our previous blogs to learn the difference!
From private functions, to large meetings, conferences, tradeshows, parades and festivals, UTG Digital Media offers engaging indoor and outdoor rental solutions for a wide variety of events.
Many of our clients choose UTG Digital Signage to add a professional and modern touch to their event, elevating their audience engagement and sponsors' brand perception. There is also a reason why over 30 embassies rented our screens for their Ottawa Welcome the World events for Ottawa2017… Simply because Digital works!
"With UTG's screens we had content looping the entire evening, which was a wonderful value added to our supporting sponsors and allowed us to reinforce our brand."

– Adriana Sgabellone, Marketing for the Grand Casino: Betting Against Cancer event
Making the best of Digital Signage
Here is how and why many event planners should consider digital signage instead of static posters at their events:
Showcase in an attractive and engaging way information that entices attendees;
Get as many messages rotating and updated in real time;
Use as way finding to highlight locations and help people find their way;
Promote high profile clients, speakers, upcoming events etc;
Cut on print… which is a BIGGIE!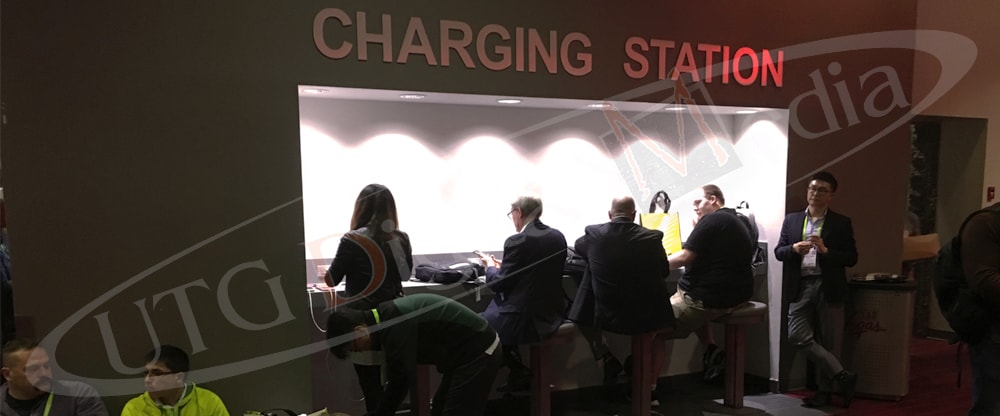 Delight your visitors with secure mobile charging kiosk!
Avoid people camping around charging stations areas to charge their phones!! MPoweredbyUTG Charging station is a secure Charge & Go machine with international cables for any type of device. Built-in with a fingerprint technology, people do NOT have to stick around to charge their phones, nor does the machine collect credit card or personal information.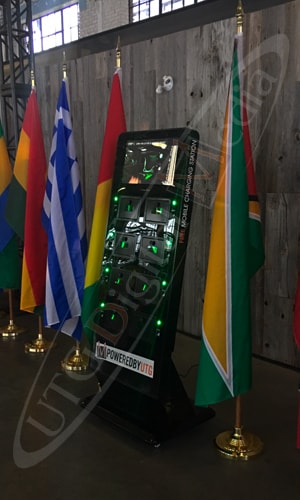 The 22'' screen is also a great source of extra revenue. It displays any type of content in any format for sponsorship, advertisements or promotions, updated remotely from anywhere, in real time. You can use to improve exposure, display future events, promote sponsors or upcoming events, play videos… anything, really anything! Connect with us to see how we can help you super-charge and super-engage your audience at your next event! We'd be happy to chat!
– Your blogger at UTG!